Oracle's latest release of Oracle VM 3 introduces significant improvements to performance, monitoring, management, control, reporting, and automation. OVM Manager is fully integrated with OEM 12c which enables integrated, lifecycle management and full Cloud automation. Oracle VM is a critical component to Oracle's Cloud Services strategy and is the right foundation for your Public and Private Cloud Infrastructure.

Our Oracle Advanced Virtualization Training provides an in-depth look at Oracle VM and enables students to rapidly deploy environments, configure systems for optimal use, implement best practices, and more expeditiously resolve potential issues. These classes are taught by our Oracle VM experts with real-world, practical expertise.

Advanced Virtualization Training Courses:

Courses are taught in a Virtual Training Environment, On-Site, or Off-hours to accommodate various Client requirements and or operational time zones. Up to 12 participants can be trained for any given course/module (min of 4 students required). The standard course length is 3.5 days and Off-Hours scheduled courses will be conducted over 6 days.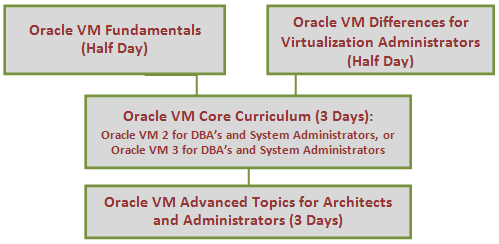 Oracle VM Fundamentals
Oracle VM Differences for VM Administrators
Oracle VM 2 for DBAs and System Administrators
Oracle VM 3 for DBAs and System Administrators
Oracle VM Advanced Topics for Architects and Administrators
---
Please contact your training representative for more details on having this course delivered onsite or online

Training Outlines - the one stop shopping center for IT training.
© Training Outlines All rights reserved